Shuler King gets standing ovation at sold out Johnny LIVE Comedy Bar show
South Carolina born comedian Shuler King can now officially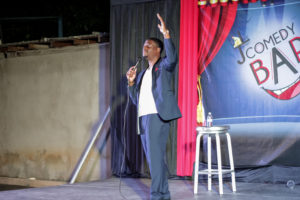 say he has dominated on a Jamaican stage after 
Tuesday's
 sold out performance at the Johnny LIVE Comedy Bar at 100 Hope Road in Kingston.
The show, organized by popular comedian and actor Christopher Johnny Daley, was dubbed a Comedy Bar Special and was staged in the parking lot of the venue and not in the sports bar where the weekly comedy series usually happens on a 
Tuesday
 night.
"We decided to use the parking lot to get more space for the Comedy Bar Special because we anticipated the support, Comedians on the show deliver great sets every week and we have a packed house on the inside, with a special guest like Shuler King for the first time ever in Jamaica we had to opt for a larger space," Christopher Daley explained
The event, hosted by Boasy Boy Floyd, also featured Jamaican comedians Dufton Shepherd, Kathy Grant and Christopher Johnny Daley himself, who all delivered spirited sets on stage.  It was Shuler King though who surprised the audience with his anti Donald Trump humor and his newly learnt set of Jamaican curse words.
Patrons who didn't reserve their seats for the event or purchase their presold tickets were literally left standing as the event sold out all seats earlier that day. Testament to the looming success of the Comedy Bar Special.
Shuler King at the end of his Comedy Bar performance got emotional when he thanked the audience for giving him his first ever sold out show after 15 years of performing stand up comedy all over the world. Christopher Daley believes this support only enhances his drive to continue staging the  Johnny LIVE Comedy Bar series.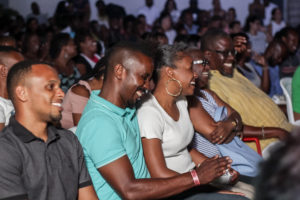 "We have really been making an effort to give Jamaican Comedians a platform to hone their skills and young comics an opportunity to be discovered and that space is Johnny LIVE Comedy Bar. This series has unquestionably become the official 
Tuesday
 night entertainment spot for so many different groups of loyal patrons," Daley added
The Comedy Bar series continues next 
Tuesday July 3
 with comedian Lemon on show at
100 Hope Road
. The next Comedy Bar outdoor Special showcase is being planned for 
September 25
 and will feature another international comedian.
You may also like...
Find us on Facebook
Event Countdown
Advertisement