BAY-C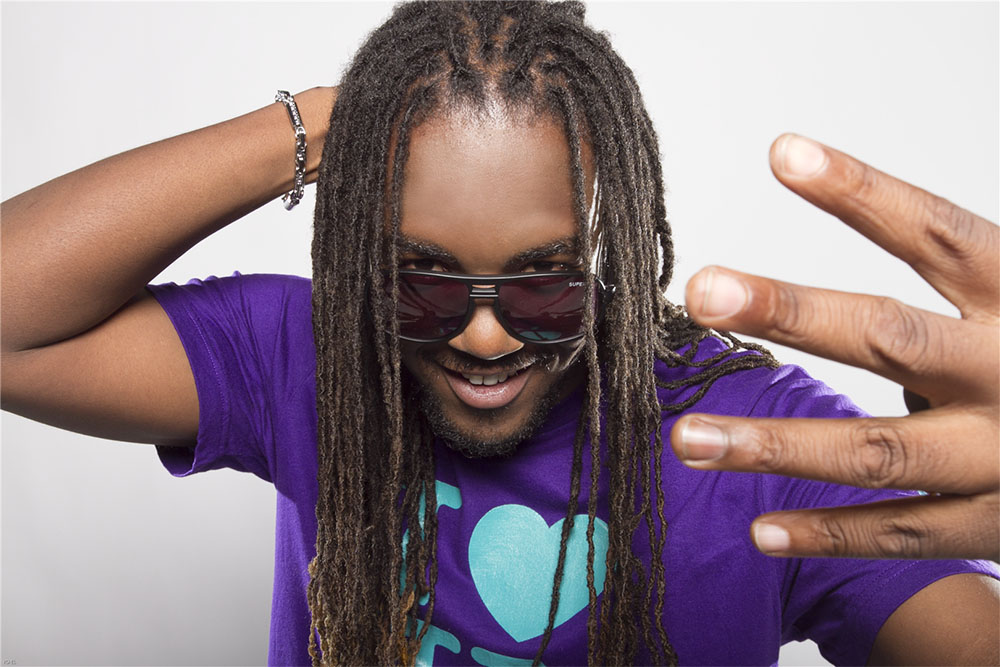 On his current single, "Journey to Greatness" Roshaun "Bay-C" Clarke parallels the challenges
within his own life with the trials endured by Jamaica's Olympic team. "I wrote the song thinking
about how the Jamaican team has advanced in recent years and how proud we Jamaicans are of
"I'm focused, my feet to the ground, heart full of courage, head to the sky,
in another zone, I'm on another level, I'm doing it, you watch it go by/ I've
got a purpose, I've got a vision, I've got a mission, the time is now, not if,
not when, not why, not how everything I do right now is wow/ Started from
the low of the low and I rose just to get to the top, so I'm never gonna ease
up, never gonna pause, never gonna fall, never gonna stop it's my moment
I'm gonna give it everything I've got, I'm on a road to meet the best of me,
destiny, I can't turn back/ I'm on a journey, a journey to greatness gonna
show the whole world that I'm the greatest".
Roshaun 'Bay-C' Clarke
Follow @BAYCMUSIC [Facebook, Instagram, Twitter, Soundcloud, SnapChat]
Contact: bombrushrecords@gmail.com
our athletes, but the song is my story too, and something everyone can relate to: to make today
better than yesterday and tomorrow better than today," explains Bay-C, who released "Journey to
Greatness", the title track from his forthcoming debut solo album, on his Bombrush Records label.
In addition to his role as Bombrush Records' CEO, Bay-C is a director of ListenMi Caribbean.
Working alongside his team, Bay-C creates customized Caribbean focused content for various
businesses and online platforms including popular weekly news round up, ListenMi News, which he
delivers in (subtitled) fast- paced patois over original riddims, produced by co-director Donald "Icon"
Medder. (www.YouTube.com/listenmicaribbean)
Bombrush Records
A hit-making producer who has set up a home studio in Jamaica's majestic Blue Mountains (which
UNESCO recently designated as a World Heritage Site), Bay-C's very first production there was
the Nyabinghi riddim over which renowned Jamaican singer Tarrus Riley's recorded his powerful
tribute to African identity, "Shaka Zulu Pickney". Released during Jamaica's Heroes Weekend,
October 2010, "Shaka Zulu Pickney" became a major hit and an anthem for the following
February's Black History Month and Reggae Month, as February is designated in Jamaica.
Blue Mountain Music Festival
Bay-C's desire to showcase the dramatic beauty and creative inspiration he has found in the Blue
Mountains provided the catalyst for his establishing the Blue Mountain Music Festival in 2014. Held
annually at the Holywell Recreational Park in February (Reggae Month), the Blue Mountain Music
Festival offers daytime hiking, art and craft exhibitions and traditional drumming sessions. The
festival's evening concerts have featured upcoming reggae acts as well as marquee names
including Chronixx, Tanya Stephens, Tarrus Riley, Freddie McGregor, Third World and preeminent
dancehall vocal group T.O.K; Bay-C's longstanding membership in T.O.K is thus far the best
known aspect of his ongoing journey to greatness.
TOK
Inspired by the popular male R&B harmony groups of the early 90s such as Boys II Men, Alistaire
"Alex" McCalla, Xavier "Flexx" Davidson, Craig "Craigy T" Thompson and Bay-C formed T.O.K as
high school students in 1992. Alex and Flexx's exquisitely sung vocals tightly meshed with the
rough edged deejaying of Craigy T and Bay-C's signature low register, which Wyclef Jean has
singled out as the best voice in dancehall.
Described by the New York Times as "the world's greatest dancehall-reggae boy band", T.O.K's hit
filled repertoire includes carefree party tunes ("Money 2 Burn"), rude boy mantras ("Man Ah Bad
Man"), and Billboard Hot 100 hits, the upbeat "Gal You A Lead" and "Footprints" a somber tribute to
Alex's slain brother. T.O.K has toured all over the world, maintaining an especially large, loyal
following in Japan, where their debut and sophomore albums, respectively, "My Crew My Dogs"
and "Unknown Language" were certified platinum and their haunting single "Guardian Angel" sat
atop Japan's national Ring Tone download chart for two years after its initial release in 2009.
In late 2014, T.O.K released the single "Sexy Gal", a duet with Jamaican born/Toronto based
singer Kreesha Turner who is signed to American actor/TV host Nick Cannon's Ncredible
Entertainment. T.O.K invited Cannon and Turner to Jamaica to promote "Sexy Gal"; Cannon was
introduced to Kingston's vibrant dancehall scene and was so inspired by what he heard and saw,
he immediately began writing a script for a feature film, King of the Dancehall, recruiting Bay-C to
verify the screenplay's authenticity. Juxtaposing the grittiness depicted in the Brazilian crime drama
City of God with the exhilarating dancing seen in Stomp The Yard, King of the Dancehall stars
Whoopi Goldberg, Busta Rhymes and veteran Jamaican actor Carl Bradshaw with several top
dancehall acts making cameo appearances, including T.O.K. performing their most recent single
"We Bring The Party", which will be included on the film's soundtrack, along with "Sexy Gal". "King
of the Dancehall is a great opportunity for exposure for us, for dancehall culture and for Jamaica
within Hollywood and among Cannon's fan base," Bay-C enthused.
Inspiration
Bay-C's journey, meanwhile, incorporates several projects apart from the group including his
"Journey To Greatness" album, due in 2016 on Bombrush Records. Bay-C grew up listening to
various kinds of music and draws his inspiration from a broad range of artists including Andre 3000,
Nas and Eminem as well as iconic Jamaican deejays Shabba Ranks, Bounty Killer and Buju
Banton. Bay-C's distinctive production approach has been shaped by dancehall hit makers,
brothers Dave and Tony Kelly, the legendary reggae drum and bass duo Sly and Robbie and
T.O.Ks former manager Richard "Shams" Browne along with Timbaland and Dr. Dre. Not too
surprisingly, he describes the "Journey to Greatness" album as "a hybrid; it's dancehall and reggae
meeting R&B, folk music and sometimes pop with subject matter that is as global as it is local,
expressing my personal journey with music."
Releases
Besides the upcoming album, fans of this deep voiced lyricist can look forward to the Better Must
Come EP. This project is to be released in April 2016 and it is a "snapshot into Bay-C's life and
musical style." The 5 tracked collection carries the listener on a musical journey spanning Reggae
and Dancehall. Tracks like "Straight Outta Portmore" (See Video Here) describes in detail what life
was like for a young Bay-C growing up in his hometown of Portmore, while "Eye For An Eye"
speaks to the cycle of violence plaguing Jamaica. The title track "Better Must Come" is a heart-
wrenching acoustic ode, to those who at times feel overwhelmed and distraught. It is an assurance
that there is better around the corner. "Star" is a sexy love track on a fresh dancehall beat adoring
that special lady in one's life, while "Hold It Out" sends the traditional dancehall message of not-
selling-out on a hybrid beat of acoustic guitars and dancehall drums.
Apart from the upcoming album, Bay-C has been releasing a few dancehall singles, as the
Dancehall culture is one of continuous releases on juggling rhythm selections as well as singles.
"Forever – Remix" with dancehall beau RR on UIM's Mildew Riddim is one to look out for. The track
beckons "I wish this night would last forever…" and exudes sexiness as well as a 'moment in time'
mood to it. Also bubbling in the Latin American market is the remake of Justin Beiber's "Sorry" by
young talent Kenny Smith, where Bay-C fires up the track with his witty lyrics.
Since he started producing Bay-C has been on a quest to share his unique musical identity with the
world; the "Journey to Greatness" album is a product of that pursuit. "I have produced tracks for
(soca superstar) Machel Montano, (dancehall greats) Assassin, Mavado,Vybz Kartel and Sleepy
Hollowtips (who is signed to Bombrush Records) but when I produced Shaka Zulu Pickney in 2010,
it was the farthest to the left of all of my productions; ever since I have been on a journey to make
music that follows my heart and is real to me," Bay-C states."I look at the greats like Bob Marley,
Michael Jackson and P Diddy and I find that the more control you have over your own music, the
more you can be in control of your career and your legacy. That's why I'm doing this album and my
other projects, as an investment in brand Bay-C's legacy."
Videos
BAY-C