Duane Stephenson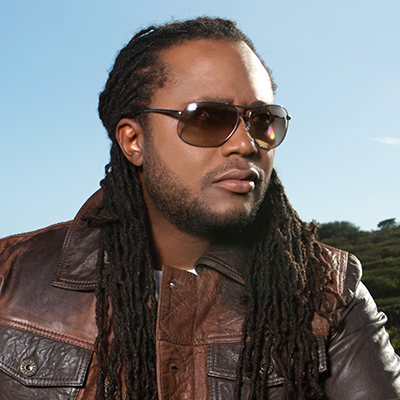 It is often said that the roots of a tree determine the quality of the fruit. Roots Reggae performing artist Duane Stephenson, is dangerously roots whose fruits are consumed everyday through his fans located in all corners of the earth.
With a charisma that magnetizes audience, this humanitarian is positively changing the world with his brand of Roots Reggae. From the gritty shanties of August Town, Jamaica, to halls of state performing for Presidents, Duane's appeal is delivered as he sings for change to social ills, and a relief to the suffering of the voiceless.
A graduate of the internationally acclaimed Cathi Levy's Little People and Teen Players School, and the former lead singer of the successful, seven member adolescent group, To-Isis (known for the hit single "Ghetto Pain"), Duane is an artiste who is defined by his music. Unafraid to tackle challenging topics, Duane skillfully curves his lyrics and melodies, and in so doing, creates a picture that everyone can understand and relate to, and will collectively move all to change the elements that are wrong.
Duane's debut offering to the world was the critically acclaimed "From August Town," which was the title of both the blockbuster single and the full-length album, produced by saxophonist extraordinaire, Dean Fraser. The album received incredible attention in Jamaica, across the Caribbean, and around the world that Billboard Magazine listed it as one of six albums responsible for "collectively galvanizing a roots reggae revival" with "lyrics that convey romantic longings and the anguish of ghetto realities with equal conviction." Pitchfork.com cited the album as "undoubtedly a highlight of not just 2008, but perhaps the past few years."
Duane's sophomore album, "Black Gold," adhered to the standard set with From
August Town, released on the VP Records imprint, and was nominated for the
2010 Album of the Year Award at Jamaica's EME (Excellence in Music & Entertainment) Awards. In the fall of 2010, Duane teamed up with The Wailers, led by Aston "Family Man" Barrett, performing as a special guest on tours throughout North and South America. What's more, Duane shared equal billing with KyMani Marley, Big Mountain, Pato Banton and The Wailers for the One Life Tour. Duane was introduced to the Wailers through their work with the UN World Food Programme and collaborated with them on a track entitled "A Step for Mankind" which has become the anthem for global hunger eradication.
In October 2010, Duane was invited by the World Food Programme to honour
Secretary of State, Hillary Clinton, at the George McGovern Leadership Award Ceremony as part of his work to raise awareness on the need for more action in addressing the issue of world hunger. That was the second time that Duane was honoring a Clinton; earlier in his career he was a part of a group that had performed for then U.S. President, Bill Clinton.
Having toured the world, performing at many large festivals ('Rotterdam Reggae
Festival' in The Netherlands, 'Rockers Rockers Rockers' in France, Sierra Nevada, 'World Music Festival' in the United States) and several intimate and interactive venues, Duane has blazed trails in South and Central America which was recognized at the 2013 Linkage Awards for which he received the Outstanding Achievement in Music honor.
Duane's third album, Dangerously Roots will be released late September 2014.  In its pre-release, it has received critical acclaim from industry greats such as David Rodigan from the UK, Tony Carr from Washington DC, Delroy G from Toronto, and DJ Norie from New York. Listening sessions with fans have made it clear that Dangerously Roots is collectors' items because of uplifting songs such as "Rasta For I," and the tribute to Bunny Wailer in the song "Cool Runnings," a 2014 take on the 1981 classic.
Noted producers on the album include Dean Fraser, Phillip "Winta" James, Clive Hunt, Christopher Birch, and Donovan Germaine from Penthouse Records.  This collection of producers, and Duane's tapestry of lyrics, makes Dangerously Roots an album that tells a story, and feeds the people good fruit from dangerous roots!